{ var st = window.pageYOffset || document.documentElement.scrollTop; lastScrollTop = lastScrollTop ? lastScrollTop : st; if (st >= lastScrollTop){ scrollUp = false; } else { scrollUp = true; } if (lastScrollTop >= 54) { minimumThreshold = true } else { minimumThreshold = false } lastScrollTop = st <= 0 ? 0 : st; }" class="h-18 w-full mt-8 transition-all duration-500 ease-out m">
{ var st = window.pageYOffset || document.documentElement.scrollTop; lastScrollTop = lastScrollTop ? lastScrollTop : st; if (st >= lastScrollTop){ scrollUp = false; } else { scrollUp = true; } if (lastScrollTop >= 54) { minimumThreshold = true } else { minimumThreshold = false } lastScrollTop = st <= 0 ? 0 : st; }" class="h-18 w-full mt-8 transition-all duration-500 ease-out m">
The first
fully flushable
period pad
Make the switch to better periods
with a free Trial Pack
"Flushable pads now exist and we're so excited. We only wish they'd been invented sooner."
"The future of femcare is here..."

"These flushable pads are super kind to the planet and will degrade before your next period." Don't just take our word for it...
Best thing ever! It's so convenient, way better than normal pads and honestly such an easy method to being more sustainable and doing your bit for the planet.

Not only was it incredibly liberating to be able to safely flush a pad without any fear of blocking the toilet or contributing to landfill issues, the pads were so soft to wear.

Makes life so much easier when out and about as not everywhere has a bin you can use.

Just knowing that I was able to flush these without harming the environment in any way made me feel so good about using them. 10/10 would recommend!!!

Feel a lot softer than pads I have used in the past. Love that they are good for the environment as I am always looking for sustainable products but have struggled to find ones that suit me.
Over 3 million tonnes of microplastics are created from period pads alone.
Using 100% biodegradable materials, our pads are able to break down in just a flush.
01 We use plant fibres for our super soft and breathable top and bottom sheet which keeps you feeling dry and comfortable.

02 Our biopolymer barrier allows blood to absorb quickly into the pad and then keeps it locked away.

03 Tree sap is used as our non-toxic, water dispersible adhesive that keeps your pad securely in place.
What happens after the flush?
The hydraulic action of the flush starts to tear the pad apart. Much like toilet paper, our pad breaks down even further as it travels through the drainage system. By six hours, over 80% of the pad will have dissolved or broken down into plant fibres the size of an eyelash. By the time the pad reaches the water treatment centre, it can safely pass through the screens where it is then treated and regenerated into biogas and fertiliser.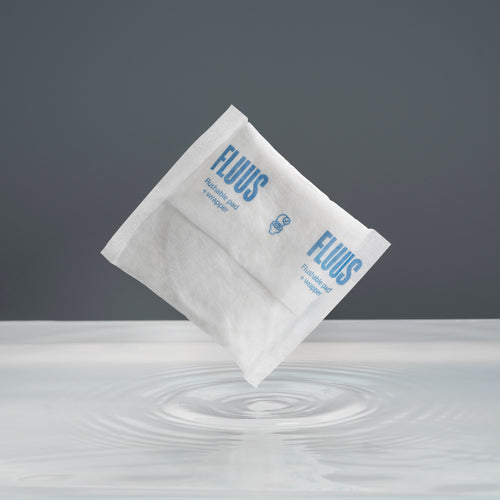 See it in action
Flushtec® technology ensures our pad only starts breaking apart when it's submerged in water and agitated – just like when it's flushed.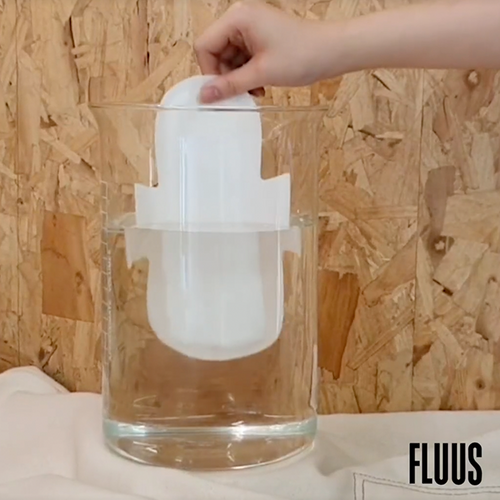 X
Living
sustainably
should be
easy.
Whether you're looking for plant-based and vegan friendly period products, a super soft and highly absorbent pad or want something easy to use with convenient disposal – you'll quickly find love at first flush.
So we designed flushable pads to break this cycle for good.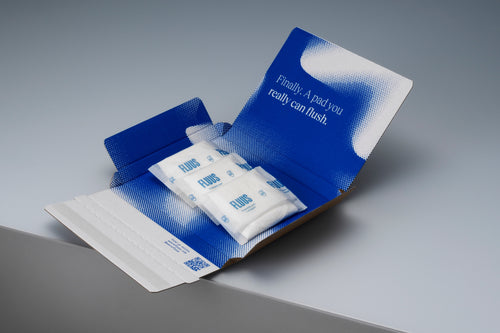 Flushable pads are a revolution
| | | |
| --- | --- | --- |
| Disposal | Fully flushable | Not flushable |
| Microplastics | Microplastic free | 90% microplastic |
| Impact | 2.7Kg CO2 per year | 5.9Kg CO2 per year |
| Lifetime | Regenerates into clean water, renewable energy + fertiliser | Stuck in landfill for 500 years |
Using science to create magic
Fuss-free period care without the waste